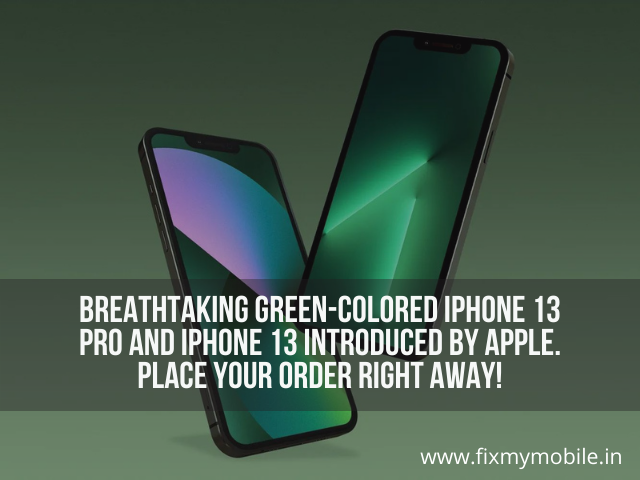 14 Mar

Breathtaking Green-Colored iPhone 13 Pro and iPhone 13 Introduced by Apple. Place your Order Right Away!

Apple never fails to introduce new iPhone models as well as updates to its already cutting-edge technology and features. Without fail, it has surprised all its admirers by introducing the alpine green iPhone 13 Pro and Green coloured iPhone 13 at its press conference held on March 8th, 2022.

Apple has left no stone unturned in proffering A15 Bionics' unmatched performance, state-of-the-art camera systems, brushing up battery life, fast 5G, and a plethora of other offers.

Without further delay, let's discuss it in detail!

Sleek and Long-Lasting Design

The iPhone 13 Pro and iPhone 13 Pro Max

Both the models now come in 5 stellar finishes – Graphite, Sierra Blue, Gold, Silver and their newly introduced Alpine Green colour with a storage of 128 GB, 256 GB, 512 GB, and 1 TB. The iPhone 13 and 13 Pro Max comprise numerous nanometer-scale metallic ceramics on their surfaces, textured matte glass at the back, and surgical-grade stainless steel band. The models come with a Super Retina XDR with ProMotion display and a 6.1 inch and 6.7 inch screen size.

The iPhone 13 and iPhone 13 Mini

In addition to the existing finishes – (PRODUCT) Red, Starlight, Midnight, Blue, and Pink – Apple has seriously propelled forwards with its new Green colour finish and 128 GB, 256 GB, 512 GB storage. The models come in 6.1 inch and 5.4 inch screen size with a slew of other impressive features such as vibrant Super Retina XDR display, precision-milled back glass and a matched aluminium frame. Not only that, it is safeguarded by the Ceramic Shield front cover and maintains the best-in-class IP68 rating for dust resistance and water.

Introduction of iOS 15.4

Green iPhone 13 and Alpine Green iPhone 13 Pro come with iOS 15.4 which enables unlocking the phone while wearing a face mask. In addition, it introduces new Siri voices, upgraded language support features, 35+ emojis, etc.

The new update will not only enhance FaceTime or Apple Map features, but also improve privacy controls in e-mails, Siri, and more places in the system for protecting user information.

The A15 Bionic Chip

Powered by the A15 Bionic Chip, iPhone 13 and 13 Pro enable spectacular experiences such as cinematic mode, fantastic graphics, and are integrated with iOS 15. A15 Bionic, without a doubt, is capable of speedy ML computations, and includes a customized ISP, powerful camera hardware with features such as computational photographic styles, Smart HDR 4, and so on. In addition, it offers better battery life, with the iPhone 13 Pro Max having the best battery life to date among iPhones.

Without waiting for even a week, you can easily grab your green or Alpine Green iPhones. The good news is, iPhone 13 and 13 Pro will be available for people living in India, the US, Canada, Australia, China, Germany, and the UK along with 30 other countries/regions, from March 18th, 2022, Friday. Additionally, all four models – iPhone 13 Pro, iPhone 13 Pro Max, iPhone 13, and iPhone 13 mini will also be available through Apple Authorized Resellers.

Without further ado, reserve your iPhone 13/iPhone 13 Pro RIGHT NOW!

FixMyMobile, is the highly preferable and autonomous repairing service provider. We efficiently fix all iPhone models with utmost convenience and affordability to our respected customers.