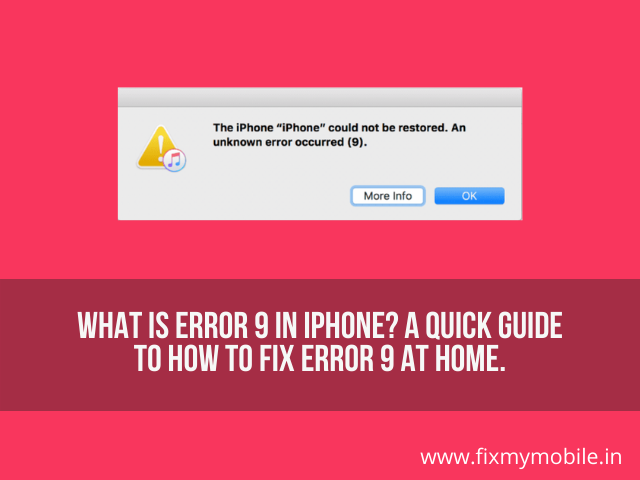 12 Apr

What is Error 9 in iPhone? A Quick Guide to How to Fix Error 9 at Home.

If you are an iPhone user, you must have gone through the pain of witnessing an iPhone Error Code 9 while updating or restoring your iPhone. Due to this error, one can neither update the iOS version nor can continue using their phones due to some technical glitch since the phone stops working for a few hours.

Can it get any worse? The answer is, YES! Error 9 in iPhone and iTunes can also cause loss of data since restoring the device will be a strenuous task once the error occurs. So, what can be done to troubleshoot error 9 in iPhone?

We are writing this blog to provide the easiest solutions to fix this error, via which you won't just be able to restore your data but will make your iPhone work smoothly just like a brand new one!

3 Ways to Fix Error 9 in iPhone and iTunes


1. Reboot your iPhone:

Restarting the phone is so undervalued in times of need, but can be a blessing in disguise. Whenever you face an iTunes error 9 issue, the first thought should be to restart your iPhone.

2. iPhone System Recovery:

If there is some issue with the system of your iPhone, then the best option is to opt for iOS system recovery. You can easily find a plethora of software on the web for iOS system recovery.

It will help you save all the data, aid in entering the DFU (device firmware update) mode, and ensure you reset your iPhone properly. By following this system recovery process, you can easily enjoy an added advantage since the successful resetting of the iPhone will make it look like a new one with smooth processing and mind-blowing speed!

3. iPhone Recovery Mode

You can save yourself from the hassle of the iPhone system recovery process by going for a recovery mode option. For this, you just need to switch off your phone, go to iTunes, and connect your iPhone, via a USB connection, to a PC. After successfully connecting it, press and hold the 'Home' and 'Sleep' buttons for some time, then release them after a few seconds.

After the iPhone's detection in the 'Recovery Mode' on iTunes, you can easily take a backup to save all your data.

We know all these things are a bit technical and perplexing, especially for a person coming from a non-technical profile. Fret not, you can contact one of the best Apple iPhone/iPad repair centre: FixMyMobile at +91 98101 79000. You will not only get a quick solution to Error 9 at a reasonable price, but we assure you that the data will be recovered by keeping all the details confidential.