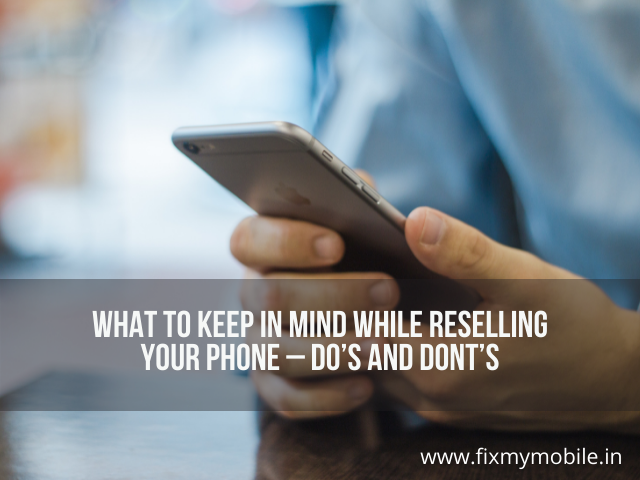 28 Aug

What to Keep in Mind while Reselling your Phone – Do's and Dont's

Many times, we change our phone to get an updated or a new one, oblivious of our old handset we donate, hand down, or sell your old phones to our relative, friends or even to the companies on exchange deal, this also makes financial help for us.

However, before selling we must ensure that we have formatted or wiped off all the personal data from the phones.

Do's and Don'ts before selling a Phone

If you are soon going to sell out your iPhone or Android phone, there are many things to take care of. The foremost advice, in this case, is – Do not sell your phone if it can be repaired. We all love our phones, right?

But if you are upgrading to the latest model or bored of the same phone after keeping it with you for years, here are the precautions you should take:

What to do?
Disconnect the previously connected Wi-Fi.

Disable Factory Reset Protection.

Be detailed and honest about the products condition.

Set the right value for your phone and have patience.

Set all the phone settings to default/ just simply format the phone.

Encrypt your data.

Remove your SIM card, Memory cards, and other accessories.

Get it charged and cleaned.

Back up all the data to a valid Google account.

Set fair price
What not to do?
Leaving your iTunes or iCloud account connected to the phone.

Do not leave any message or password in your phone.

Do not forget to hand over the additional accessory, bills, and box.

Do not forget to sign out your social media account, like Facebook and Twitter and remove their password.

Do not share duplicate battery or other articles.

Do not degrade the value of your phone.

Do not forget to hand over the original accessories.
Keep it all crystal clear, including the condition of phone, pricing, accessories and warranty cards. Check online websites and platforms where you can sell your phone including eBay, Craigslist, Gazelle and so on.
For an iPhone device, take care of these too:
Call your carrier to disassociate device from an account.

Log out of Apple ID

Disable your iCloud account

Turn FaceTime off
Essential Tasks to Complete before Selling your iPhone or Android
If you have determined to sell it then make sure, you have gone through the following things:
1.Back up your data and setting to your iCloud or Google Account
Back up your app data, docs, calendar, contacts and photos to Google drive or iCloud account. This will not only prevent you from losing your important data but also keep it safe and secure for any time usage. You can do this directly though liking your phone with your account and then doing a proper sync on a fast running network.
For iPhone
Connect to a Wi-Fi device, head to Setting>iCloud and backup your data from there.
For Android
Settings >Google Accounts > Choose the Google account > Sync.
Using this, you can also back up the Wi-Fi passwords, App passwords, and other settings. For this, you need to get to Settings then Backup & reset, device backup in Google drive.
Back up your photos and videos using Google photos, and Texts and call log, for this, you can download a reliable app from Google play store.
2.Extract SIM and Memory Card
Do not forget to remove SIM from your phones as it may contain your contacts information which the new user can use wickedly dropping you in trouble. Nowadays, SIM cards can expose all the details related to your address, accounts. You may have your accounts linked with the mobile number; a single OTP can turn your world upside down. Your stored messages or text can leave him with some clue about your activities and so. Make certain to take your SIM card out beforehand, to avoid any kind of trouble.
3. Turn off Security Passcodes
You if you have any set patterned password for your phone then disclose it to the new user or just disable it. It commonly happens with people they forget to disclose the passwords, which may be problematic for the new owner.
To do this you can head to Settings > Face ID (or Touch ID), Passcode, Enter your present Passcode, click on "Disable Passcode" option and turn it off.
However, it is totally fine to keep your phones secured from meddling people. Most of us have security patterns or passwords on our mobile phones to help us protect from them. Even if you are having fingerprint lock just deactivate it without any backup.
4.Deactivate Wireless Carrier Account (WCA)
Make sure to remove old wireless carrier account before handing over your phone to someone else. If you do not do so then the new user can access your data, calls, and other info and can use it. Moreover, if he resells the phone to a new user, the new user will not be able to use it or change the account, which can be troubling for him.
5. Make a Factory Reset
After erasing all your data or performing a "factory data reset" means you are consciously cleaning everything, which cannot be reverted until backed up. Make sure the buyer is willing to take the phone and will not return it with some not-up-to-scratch reason.
For a factory reset in iPhone, you can lead this way.
Settings > General > Reset and Erase All Content and Settings.
For a factory reset in Android, this is the procedure:
Settings >Backup & reset > Factory data reset or Settings > System > Reset Options and "Erase All Data (Factory Reset)."
It may ask for your current password, enter it turn your hand as a new one. You need to reboot your phone after this. This reset does not erase the data of SD card.
6.Clean the accessories and phone.
Be generous and clean the phone. Constant usage of earphones and chargers may get the leads accumulated with dust, do not forget to clean it too. It will leave a nice impression on the buyer, as he is going to pay a handsome amount for it, it should be satisfactory. Keep the phone fully charged and ready to use. If you have some accessory, broken or damaged, get it replaced, or get a new one.
All these activities will not only keep you but the new user free from worries for a hassle-free usage. And if you think that your loving iPhone can still be repaired, take it to FixMyMobile. We will repair it.