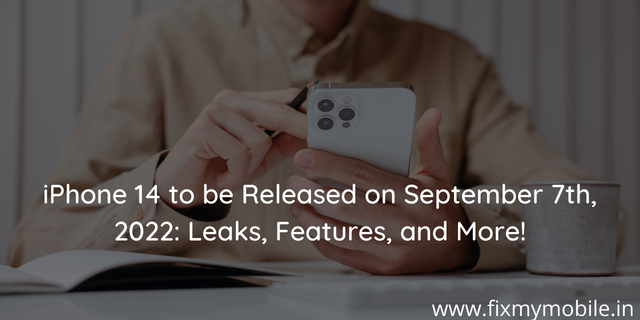 05 Sep

iPhone 14 to be Released on September 7th, 2022: Leaks, Features, and More!

Pull up your socks because the iPhone 14 series is launching on September 7th. Excited? So are we!

Apple has never left any stone unturned in astonishing its users and the world, and this time as well, we can see there are many conjectures.

Nobody can truly say what Apple has on the table to kick it up a notch and impress its admirers and millions of followers around the globe. However, there are a few hints dropped by the resources about the upcoming Apple event and the features we can look forward to.


This blog will majorly focus on the top 5 features Apple might incorporate in its iPhone 14 series.

Without further ado, let's proceed with the blog!
Satellite Connectivity Feature:

Well, this feature is definitely a blessing in disguise since it will be a savior in case major accidents are reported in areas without cellular service and would save the day for those traveling in mountains or coastal areas. If the sources are to be believed, the iPhone 14 satellite feature can also comprise an emergency texting feature.

iPhone 14 Astrophotography Mode Feature:

Another mind-boggling feature the iPhone 14 series might add on is the astrophotography mode since all the banners for the 7th of September event have a space theme. If this speculation turns out to be true, then capturing the moon or stars' pictures from the iPhone 14 will be a breeze.

Although this presumption sounds too good to be true; if it's true, the feature won't be able to give an immediate output since the camera's processing will take time to give a better-quality image.

iPhone 14 Always-on Display:

The Always-on Display feature, that is, displaying the time, day, date, and so on, at all times, is not something Apple has offered to its customers until now. However, Apple might include this feature in the iPhone 14 Pro and iPhone 14 Pro Max.

We know Android users have been enjoying this feature for a long time now, but for Apple users, it will be new and something to look forward to. The only drawback is that it can lead to battery drainage, but let's be optimistic and hope Apple has something in store to offer a solution to that as well!
iPhoneone 48 Megapixel Triple Rear Camera:

You read that correctly: a 48-megapixel camera! It goes without saying that it's a major upgrade over last year's 12-megapixel sensors. Unfortunately, this feature will be limited to iPhone 14 Pro models.

As per the latest news, it might incorporate the autofocus feature as well to capture the pictures with better quality compared to the existing fixed focus camera feature.

iPhone 14 Punch-Hole Display Design:

It can be seen in most Android phones that they have only a punch-hole display, that is, just the front camera without speakers on top of the screens/display, which helps in consuming less display screen and giving more screen space.

The new iPhone 14 Pro models are also said to come up with a punch-hole display without eliminating the sensors needed for Face ID. Isn't it cool? By bringing in this change with the display, not only will the screen space be greater, but also the content viewing experience will be enhanced.
The above blog clearly highlights all the features the iPhone 14 series might include. But the wait will finally be over on September 7th since the event will answer all the queries and rumors pertaining to the new iPhone models.

If you are already an iPhone user and facing any issues with it, be it around the camera, display, screen damage, etc., FixMyMobile, the most reputed iPhone service centre near you, is just a click away!