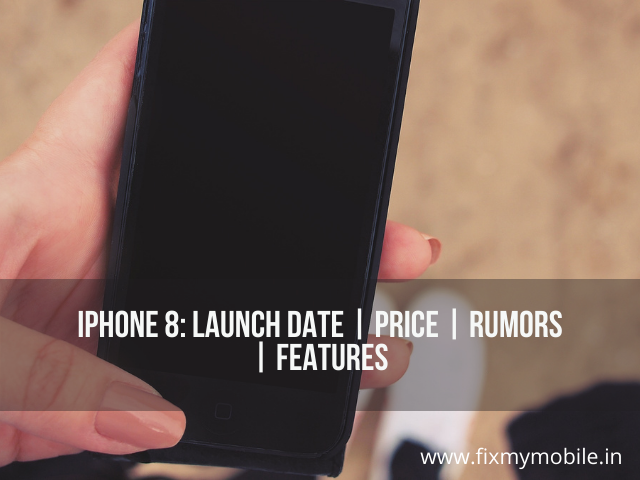 08 Sep

iPhone 8: Launch Date | Price | Rumors | Features


Apple's latest phone, iPhone 8 has made its mark in in the current market before even launching. Many anxious eyes are prying for a single look, while the fans are can't wait to get in line and grab a phone from the market. This iPhone has a Special event on 12th September at the Steve Jobs Theater. There are many features and issues to talk about:
Let's talk about Price first, it seems that the phone is about to cost more than a thousand dollars, prices are only speculations right now, but it is evident that 64GB phone would be around $999, 256GB and 512GB phone would cost around $1,099 and $1119 respectively.
Specs at this point are only rumors but giving you the most authentic rumors of all. It is said to be 5.8 inches with the OLED edge-to-edge display. It is said to have an "all-glass" construction and a wireless charging port. Apple has incorporated iOS 11 with an improved Siri and P2P payment system as well. It does have a face recognition technology and has dual cameras at the back. Its LTE speeds rumored to be up to lighting fast rate of 450Mbps.
It is also rumored that it would come out in three colors, White, black and copper gold. It is a fine combination of colors, it is also said to have a smart cam which would be able to distinguish between various sports, pets, babies along with different scenes such as fireworks and foliage.
iPhone 8 would have a system of augmented reality. It would introduce a new navigation method which would enable the users to navigate using the camera. You just have to point the camera and it would tell you how far you are from your destination.
Now let us explore the features one by one, edge to edge display highlights the display, Apple surely does not want you to miss an inch of its latest iPhone's screen. So, Naturally, there is no embedded home button or any other buttons at the bottom, it is the screen, all in all, iOS 11 does it for you at the bottom of course. The absence of home button is replaced by the pressure detector, it is embedded with a 3d touch and thus makes it vibrate, if appropriate and significant pressure is applied. In addition, the phone wakes up if the phone is picked up and the fingerprint sensor is now the whole screen. There are rumors of a virtual home button though, which can be resized, reshaped, moved across the screen or even hidden.
Next on the list is the OLED display, this is the specialty of Samsung. This is a thin, light emitting surface, with a very flexible and interface, does that mean you could roll over your iPhone, that is not how it works, it is there to protect the screen and your eyes as it filters out any inorganic components of light.
Apple does have a fingerprint recognition software, but it has additional applications of an embedded facial recognition software. This technology is said to be super-fast and could manipulate your face in a millionth of a second, just don't put too much makeup on. This tech could also detect when you are looking at it. It turns to mute its notifications if it detects your face towards it.
The speculative smart cam is really awe inspiring. It is able to identify different pieces from an environment through its cam and then makes out the whole pic. This is how it differentiates snow from the forest. This application could lead to great geological discoveries if properly used. It does, then create an augmented reality system for you to navigate and reach your destination. It tells you to walk down the passageway, then take the stairs and move towards the bus stand on your left.
When all of these features are combined, they practically make the best phone in the market, it has a price tag that justifies it as well. It is a phone; everyone is waiting to get their hands on. It is also speculated that it could break the sales record of iPhone 7 in the first week alone. I can't wait to get my hands on it.