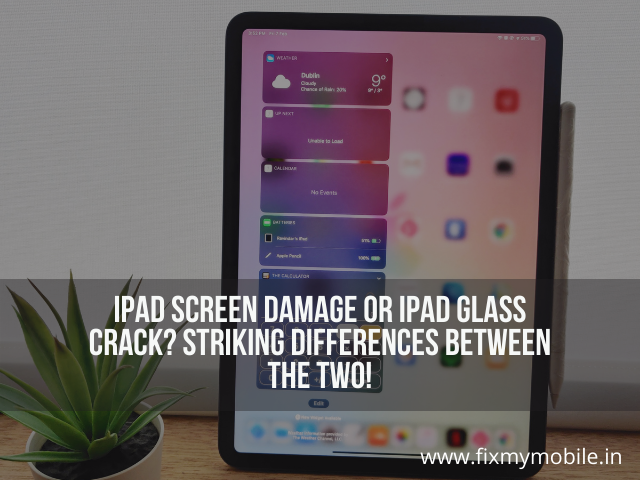 31 Mar

iPad Screen Damage or iPad Glass Crack? Striking Differences between the two!

With the advent of technology and modernization, we can see how one-fourth of the urban population uses iPads in their daily routine; carrying something daily and accidentally dropping it is no big deal. We have all experienced a broken screen or glass at least once, but have we always identified it correctly, that is, whether it's just the glass or the display?

It goes without saying that iPad Screen repair can cost you an arm and a leg, but iPad Glass repair, on the other hand, is much cheaper. But how to identify which one out of the two is broken?

In this blog, we will discuss all the differences in detail. Without any further delay, let's start:

iPad Glass Breakage

iPad glass screen is the outer layer of your iPad display, and can easily withstand damage and stress. But dropping the iPad can break the glass, and the breakage of the glass can easily be diagnosed when there is just a crack, just like a spider web on the iPad, with no colorful lines or blank/black screen.

In most cases, the glass screen looks unharmed until one uses it. The web-like crack explicitly states that it is the glass that is damaged, and in that scenario, just go for the iPad glass repair service without thinking about the whole display change.

iPad Screen Damage

iPad's display screen is the inner layer and is responsible for its touch feature and display visibility. The screen is quite durable but a hard fall of your iPad can damage it.

The damaged screen can be examined if there are black spots, blank or blurred screen, colored lines or patterns on the screen, or the touch stops working. Additionally, breakage of the screen doesn't necessarily mean that the glass is also damaged. Therefore, diagnosing the problem before going to the iPad repair centre is of paramount importance.

Reading this blog simply implies you are struggling with your iPad and want a fix for the same. Be it a glass repair or a screen repair, we, at FixMyMobile, not only help you diagnose the problem real quick but also repair your iPad at the best possible price without compromising the quality. You can also call us at +91 98101 79000 to find out the iPad repair cost since it varies based on the model.