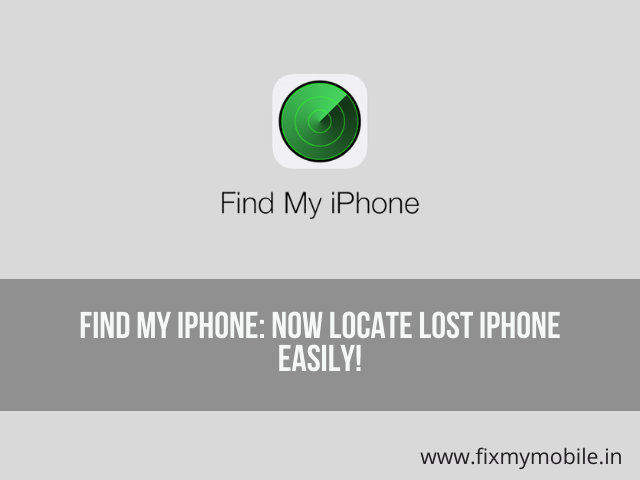 24 Apr

Find My iPhone: Now Locate Lost iPhone Easily!

According to a survey, approximately 70 million people across the globe lose their smartphones every year. But the question that intrigues us the most is, what is the phone recovery percentage; You would be shocked to know that it is less than 5%. Can you believe that?

Phones can easily be misplaced, lost, or stolen as well, especially the ones from high-end brands such as Apple. To overcome this problem, Apple, as always, has kept a hidden gem in place, that is, its "Find My iPhone" feature. The good news is, that it's not only limited to tracking your lost iPhone, but iPad, Mac, and Apple Watch as well.

Let's discuss in detail what the Find My iPhone feature is and how to enable it for successful tracking of your Apple devices at all times:

 

What the Find my iPhone application/feature is?

As the name implies, the feature allows tracking of your lost iPhone or any other Apple device without any hassle. On top of that, if your device is lost or stolen, you can easily lock or erase the data.

The feature can be activated on all the Apple devices – iPhone, iPad, Mac, and Apple Watch. Once it is enabled, the device cannot be unlocked without adding the iCloud password of the original account.

 

Step-by-step Guide on How to Enable Find my iPhone?

Activating this feature is of extreme importance. Therefore, do it right away, and recover your device even after a theft or losing it accidentally.

Step 1: Navigate to the "Settings" menu

Step 2: Click on your name where it's also written Apple ID, iTunes, iCloud, App Store, underneath it

Step 3: Go to 'Find My' and turn on the feature.

Step 4 (optional): You can also enable 'Share my Location' feature to share the same with your friends and family.

 

How to Find a Missing iPhone, iPad, Apple Watch, or Mac?

You can easily locate the missing Apple device via Find my Application on any other device, or on iCloud.com. For this, open the Find my Application < Devices Tab < Find the Device in list.

After that, you can get directions to the lost device without any trouble. The only limitation is, that you won't be able to get the directions/commands if the Apple device is offline. Fret not, once the device is online, you will receive all the commands.

 

How can you Disable Find my iPhone?

To disable the feature, all you need to do is to, go to Settings < Account < Find my < Turn it off. Post that, you need to verify the request with your iCloud password.

You can only disable the "Find my" feature under two conditions. First, while selling the device, second, when sending your iPhone for repairing to the Apple centre since it is a prerequisite for generating a return code.

 

How to Find Missing AirPods?

You can also locate your missing AirPods using Find My feature. In case it's enabled on your iPhone, it will automatically be activated on AirPods.

If AirPods are missing or not in their case, but are somewhere close, you can use Find My to locate them. If you find them on the map, you can have them play music as part of locating them with ease, even if they are stuck on your couch!

You can still know their last location, that is, where they were last seen connected, even if they are not in the device's range, have drained batteries, or are in their case.